Get To Know Us
About Us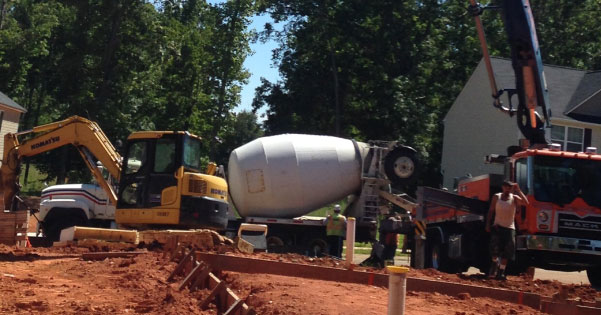 GTSI (GroundTech) was established in 1992 near Denver, North Carolina as a local, veteran-owned operation that has grown over the years into a diverse multidisciplinary Geotechnical Engineering firm. The founder, Mr. Gary Gechter, utilized his past experience as a Geologist in the Geotechnical Field to expand GTSI (GroundTech) to its current status of field, laboratory and office personnel, specializing in geotechnical, construction materials testing, civil engineering, caisson foundation division and environmental services. From the start Mr. Gechter treats employees and clients like family, creating a respectful and comfortable work atmosphere with a commitment to the success of each project.
GTSI's commitment is demonstrated by our broad client base including many of the most respected real estate developers, commercial contractors, multi-family and residential builders within Charlotte-Metropolitan area, North Carolina, Fort Mill, South Carolina and vicinity.
GTSI staff includes qualified geologist, civil engineers, environmental scientists, caisson and field technicians providing a depth of professional experience to address your project requirements. Below are credentials for some of the GTSI team:
Gary Gechter, P.G., President:
Gary Gechter is a United States Marine Corps Veteran who has a B.S. degree in Geology with over 40 years of experience in geotechnical and environmental engineering. Mr. Gechter is a Licensed Geologist in North Carolina, South Carolina and Tennessee and qualified as an Environmental Professional. He served as the lead staff geologist for numerous projects throughout the Carolinas, becoming a recognized expert in geotechnical and environmental activities related to construction and development. Mr. Gechter is experienced in performing, managing and providing senior level technical consulting for Construction Materials Testing, Special Inspections, Caisson Foundation Design and Installation, Geotechnical Evaluation, Phase I and II Environmental Site Assessments and Asbestos Surveys. Mr. Gechter founded GTSI in 1992, and has applied a "common sense" approach that clients have grown to appreciate and recognize. This approach has served GTSI well and has had a significant positive impact on company growth.
Donna Barbour, P.E., Principle Engineer:
Donna Barbour has more than 19 years of experience in civil engineering, providing Civil Engineering consulting services for industrial, commercial and residential development in design and permitting throughout the Carolinas. Ms. Barbour received her B.S. in Civil Engineering from the University of North Carolina at Charlotte (UNCC) and is currently a licensed Professional Engineer in North Carolina and South Carolina. Ms. Barbour is a Certified Professional in Storm Water Quality (CPSWQ) and a Certified Erosion, Sediment and Storm Water Inspector (CESSWI) as licensed by EnviroCert International. Ms. Barbour has worked with Government agencies and clients to develop technical specifications and construction documents to help resolve complex design issues on projects throughout the Carolinas.
Andy Gechter, Vice President/Senior Project Manager:
Andy Gechter began with GTSI in 1992 and has over 24 years of experience in the geotechnical engineering and construction services industry with experience in construction materials testing, special inspections, project management and geotechnical evaluations and consulting. Mr. Gechter has a breadth of experience performing and managing construction materials testing services for commercial, residential, and multi-family development projects throughout the Charlotte Metropolitan area since 1992. Mr. Gechter has expertise in evaluating site conditions relative to the plan and making value-engineering recommendations that save the contractor time and money.
Kyle Russell, Environmental Scientist:
Kyle Russell has a B.S. in Environmental Science with over 5 years of experience as an environmental consultant. Mr. Russell is experienced in performing Phase I & II Environmental Site Assessments on residential, commercial, industrial manufacturing and Brownfield properties. Mr. Russell has conducted lead-based paint and asbestos pre-demolition and pre-renovation surveys for residential, commercial, industrial manufacturing properties. Mr. Russell is an Accredited North Carolina Asbestos Inspector.
Douglas Reedy, Construction Materials Testing and Special Inspection Engineer:
Douglas Reedy is a United States Army Veteran who has a B.S. in Civil Engineering. Mr. Reedy has over 23 years of experience as a civil and geotechnical engineer. At GTSI Mr. Reedy utilizes his experience and technical expertise in the field conducting Construction Materials Testing and Special Inspections. Mr. Reedy is experienced in field testing and monitoring for concrete, masonry block fill, grout, asphalt pavements, soils, post tension cables for concrete deck slabs and reinforcing steel evaluations. Mr. Reedy has provided training to field technicians in ACI, ASTM, AASHTO standards for concrete and soils testing. Mr. Reedy has performed special inspections for reinforced masonry construction, concrete, soils, steel inspection and weather proofing of structures. Mr. Reedy has performed concrete and soil testing in the in-house laboratory at GTSI. Mr. Reedy is experienced at calibrating laboratory and field equipment per company and ASTM standards. Mr. Reedy has experience as a project engineer designing and re-engineering freshwater dams, specializing in storm water routing, breech analysis, slope stability analysis, decant system design, sediment control NDPES permits for mining and sewer projects. Mr. Reedy has experience reviewing field reports, laboratory proctor test results on soil, compaction reports, soil classifications, triaxial shear tests, hydrometers and Atterberg Limits. Mr. Reedy has experience managing surface and groundwater surveys.
Interested in learning more about any of these services or hiring us for your next project? Contact us today! 704-987-8378